The Café At Oakley Grange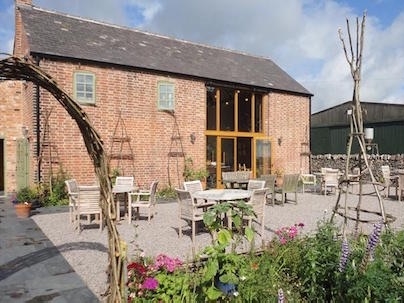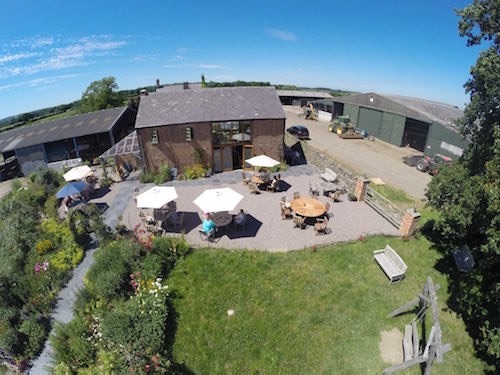 In The Café at Oakley Grange You Will Find Delicious Farmhouse Breakfasts, All-Day Coffee, Cake & Pastries, Lunches, All-Day Sandwiches and Afternoon Tea.
For all Oakley Grange Café Menu choices please click
here
.
Oakley Grange Café and Delicatessen enjoy a delightful farm setting where you can park easily, then relax and enjoy the farming way of life while tasting some seriously delicious food, prepared using only the very best, fresh, mainly organic ingredients. With excellent disabled facilities available, the Café is a relaxing place for everyone.
We believe that only the best quality, homemade food is good enough for our customers. That's why we use fresh and organic ingredients, either reared or grown on our Farm or bought from carefully chosen suppliers, to make tasty delights just for you. When ingredients are this good, we take time to cook them properly and only when you order them. Sometimes this may take a little longer, but we think the taste is worth the wait!
Even if it's just you and a friend, booking a table is always a great idea; giving you the opportunity to choose your favourite 'spot' and of course to discuss any dietary requirements. If you're bringing a few friends, please do let us know so we can ensure a table is available and ready for when you arrive. Thank you!
If you're planning an event and would like us to help with your catering, Inger will be delighted to talk you through our Buffet choices on 01509 842988 or email via our Talk to Us page.
Pop in for a Coffee or stay longer for Breakfast, Lunch or Afternoon Tea - We look forward to seeing you!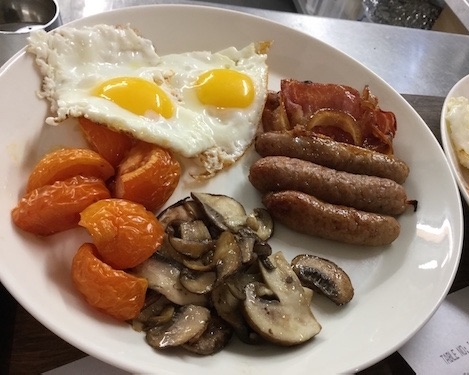 A Great Choice of Breakfasts... What could be a better way to start the day than one of our delicious, cooked to order, Farmhouse Breakfasts with a pot of tea, coffee or juice if you prefer! Using our own sausages, bacon, eggs and fresh bread we add mushrooms and roast tomatoes to make a hearty breakfast with no compromise on taste and quality. If you just fancy Tea and Toast, or even Pizza, we offer that too! Check out our Breakfast & Brunch Menu choices by clicking here.
Morning Coffee with our Homemade Cake or Pastries... Chat and relax with friends over a Cappuccino and Cake or one of our organic Teas. We're not happy with just making mouth watering cakes - we know our Danish Hazelnut Tart is legendary - we also like to tempt you with our pastries, cookies and biscuits too. And, if you'd like to take some home, as so many customers do, we sell them in our Delicatessen!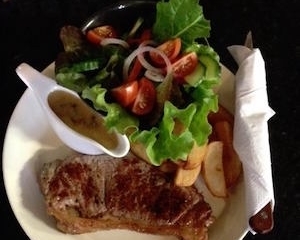 Lunches You'll Love ...You have plenty to choose from at lunchtime. Whether it's a relaxing lunch or a quick bite, we've got plenty of freshly made, tasty options. From Hearty Soups with our Artisan bread to one of our Seasonal Classic Mains or fabulous pastries, we've got something for everyone. If it's just a sandwich you fancy, they're freshly made with our own bread and organic ingredients. We also have a choice of Vegetarian dishes every day and if you have any other dietary requirements just let us know.
Bring Friends & Family for Sunday Lunch... Every Sunday our Chef carefully roasts a joint of organic Beef, Pork or Lamb from our Farm as well as organic Chicken and adds a variety of fresh, seasonal, organic vegetables. Followed by a choice of a classic dessert, it's so much easier than cooking at home! A Vegetarian option is always available and of course smaller portions for your children too. If you wish to order from our normal lunchtime menu, that's fine with us!
A Relaxing Chat Over Afternoon Tea... We find that a cup of one of our finest teas made with non-homogenised milk from The Duffield Dairy in Derbyshire (or a slice of lemon if you prefer), accompanied by a choice of delicate sandwiches, followed by a slice of homemade cake, scone or pastry, goes down very well at this time in the afternoon at Oakley Grange Café. Relaxing and tasty!
The All-Day Sandwich, Specials Board, Menus & Wi-Fi
Everyone loves... Sandwiches, so we serve tasty ones, freshly made to order, all day. Everyone loves... A change, so our Specials Board adds an additional seasonal twist to our Menu. Everyone loves... To 'keep in touch', so our Wi-Fi is free and you're very welcome to use it. Please ask one of our Team for the password. Everyone loves... A great Menu choice, so please click here to be taken to our Menu page.
It's All About The Taste...
'Gorgeous food all day, lots of veggie options and wheat intolerance choices too. #SoGladWeFoundYou